EXWAY FLEX AKTION BESTSELLER
Regular price
SFr. 869.00
SFr. 649.00
Sale
WARUM EXWAY FLEX AKTION BESTSELLER? LAGER SOFORT LIEFERBAR  Kauf auf Rechnung mit Teilzahlungsoption Bei uns kannst du zuerst Testen und dann entscheiden, komme bei uns vorbei auf eine Kostenlose Testfahrt...
WARUM EXWAY FLEX AKTION BESTSELLER?
LAGER SOFORT LIEFERBAR 
Bei uns kannst du zuerst Testen und dann entscheiden, komme bei uns vorbei auf eine Kostenlose Testfahrt und Beratung.
Exway ist das neue Boosted Board nur viel besser!
MORE PERFORMANCE, SMOOTHER RIDE
Exway ist stolz darauf, ein leistungsstarkes Elektro-Skateboard mit vielen Funktionen zu einem noch günstigeren Preis vorstellen zu können.
| | |
| --- | --- |
| Leistungsdaten: | 1200w x2 |
| Gewicht: | 7,7 kg |
| Max. Steigungsgrad: | 16,7°, 30% |
| Wasserschutz: | IP55 |
| App: | Android, IOS |
| Höchstgeschwindigkeit: | 40 Km/h |
| Max. Reichweite: | 32 km |
| Ladezeit: | 40 min |
| Motor: | 600 Watt |
| Motortyp: | Bürstenlos |
| Akku Kapazität: | 259 Wh |
| Akkutyp: | Lithium |
| Antriebsart: | Nabenantrieb |
| Bremse: | mit Bremsenergie - Rückgewinnung |
| Bauform: | Longboard |
| Deck Breite: | 29 cm |
| Deck Länge: | 94 cm |
| Reifenart: | Gummi - Glatt |
| Reifendurchmesser: | 85 mm |
| Straßenzulassung: | Nein |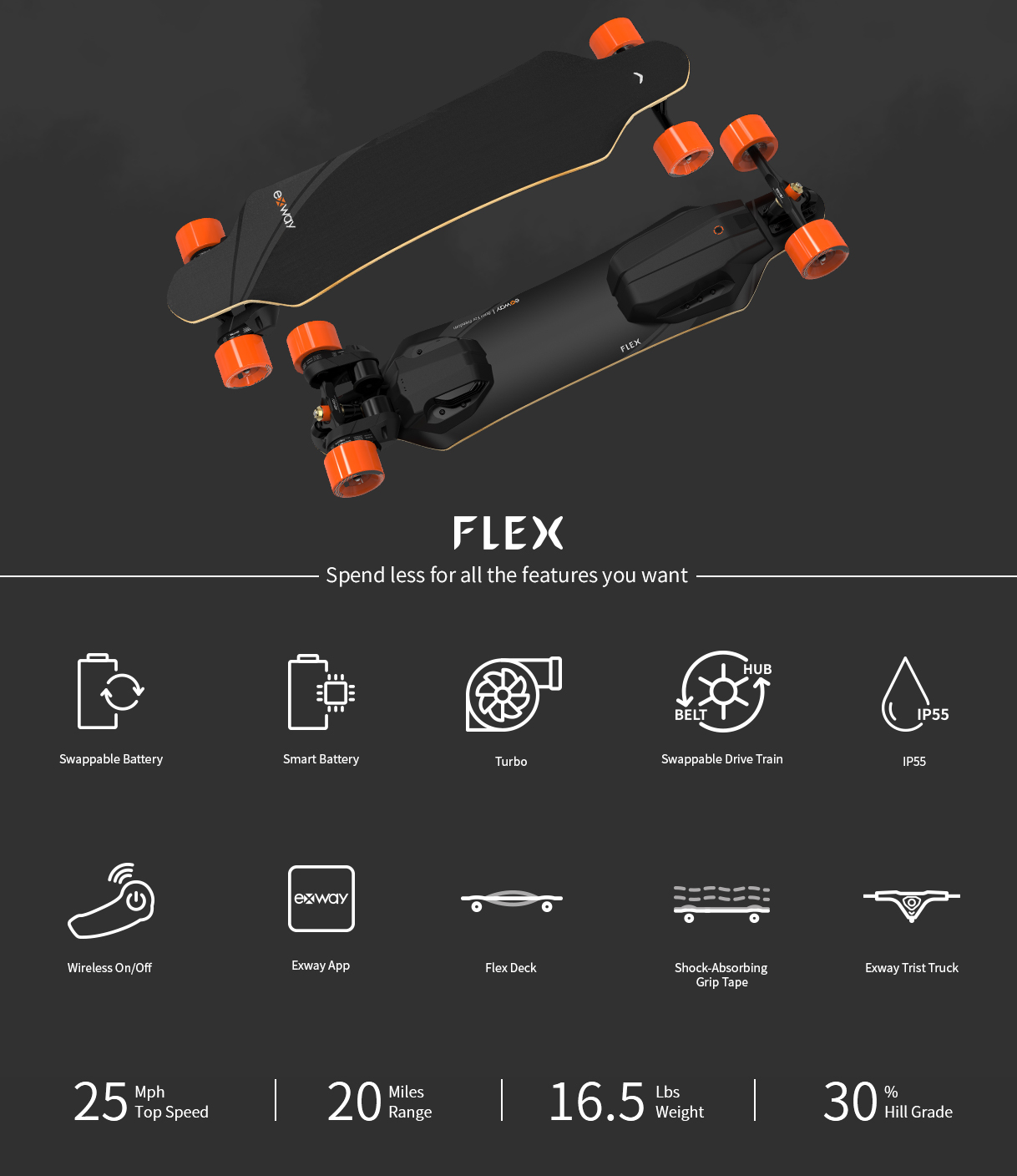 SUPER FLEX DECK
• Parabolische Radausschnitte bedeuten größere Radkompatibilität.
• Keine Kompromisse mehr bei der Stabilität für den Komfort. Optimierte Flexmuster ermöglichen breiteren Abschnitten des Decks einen geringeren Flex für mehr Stabilität, während die schmalere Taille mehr Flexibilität für ein reibungsloseres Fahren bietet.
• Abwechselnde Schichten aus multidirektionalem Fiberglas und Bambus bilden zusammen ein superfestes und elastisches Deck.
• Die Oberfläche des Decks verwendet die neuesten UV-Glasfaser-Druckverfahren für ein lebendigeres und haltbareres Muster.
• Head und Tail des Boards sind leicht angewinkelt, um das Handling zu verbessern und das Aufnehmen zu erleichtern. Echte Skater werden diese Designinnovationen zu schätzen wissen!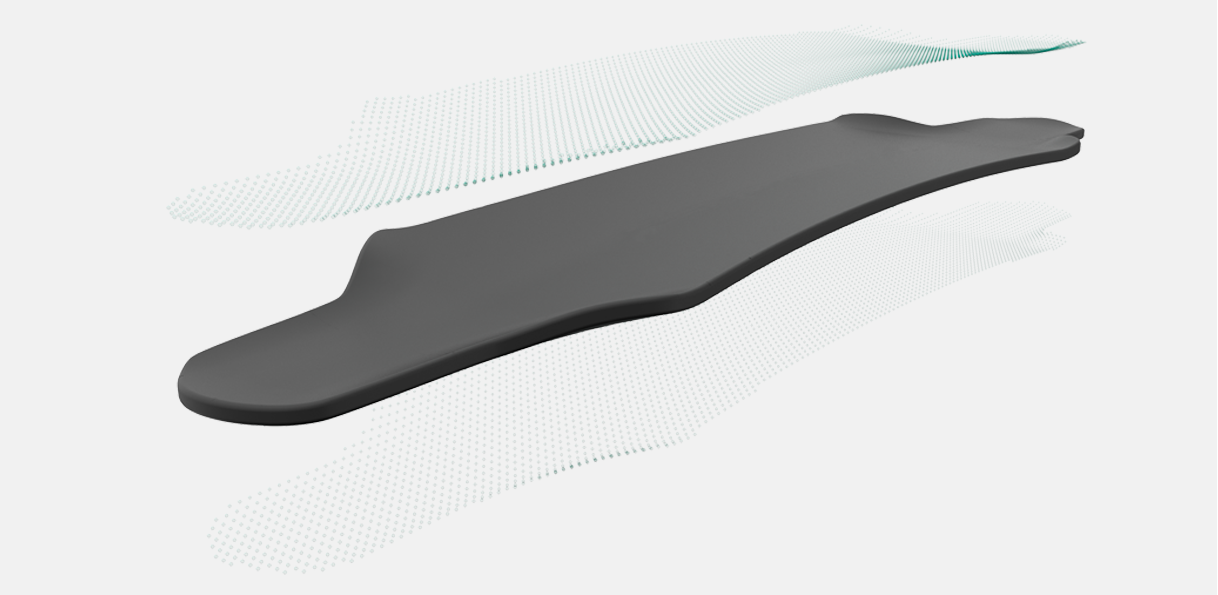 IT'S ALL ABOUT THE DETAILS
• Shock-absorbing foam grip tape: Now standard on the Exway Flex. More water-resistant and vibration absorbing. Improved comfort and strength.
• Exway 2nd Generation Wheels:
A. Softer at 76A for a smoother ride.
B. 85mm wheels take advantage of the new parabolic cutouts to give you more stability at speed.
C. 90% ultra-high-rebound urethane provides the perfect balance between softness and durability.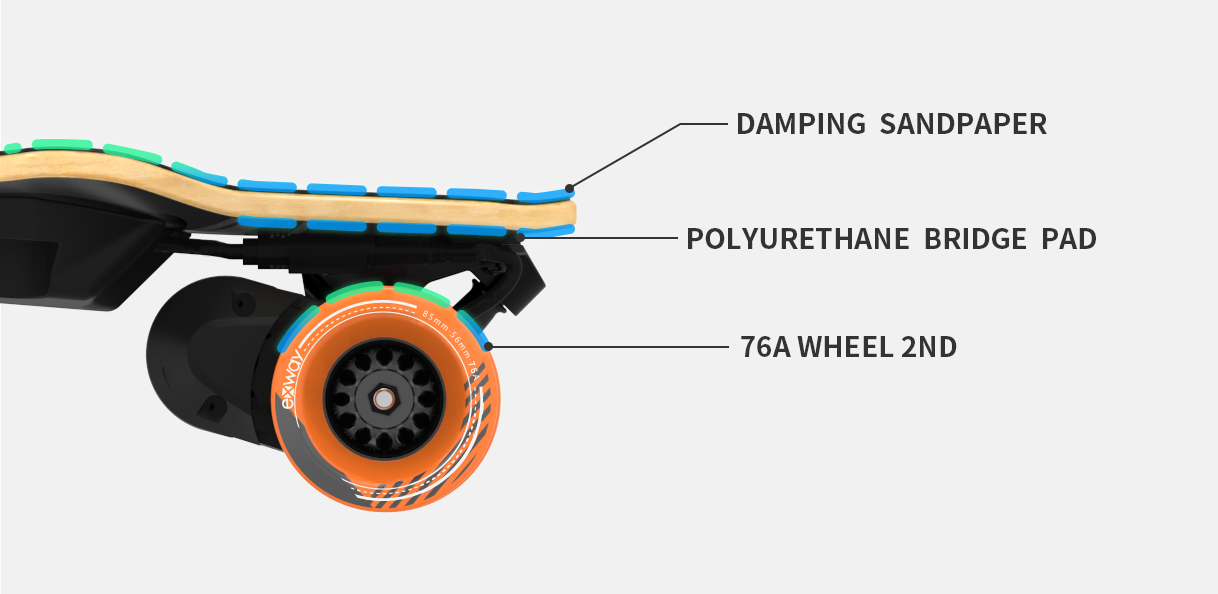 SWAPPABLE DRIVETRAIN OPTIONS
• A single FOC ESC is compatible with both the hub and belt drivetrains.
• Quieter hub-motor drivetrain while giving greater ground clearance.
• Belt-drivetrain has more torque while multiple pulleys allow compatibility with most wheels. Your wheels, your choice.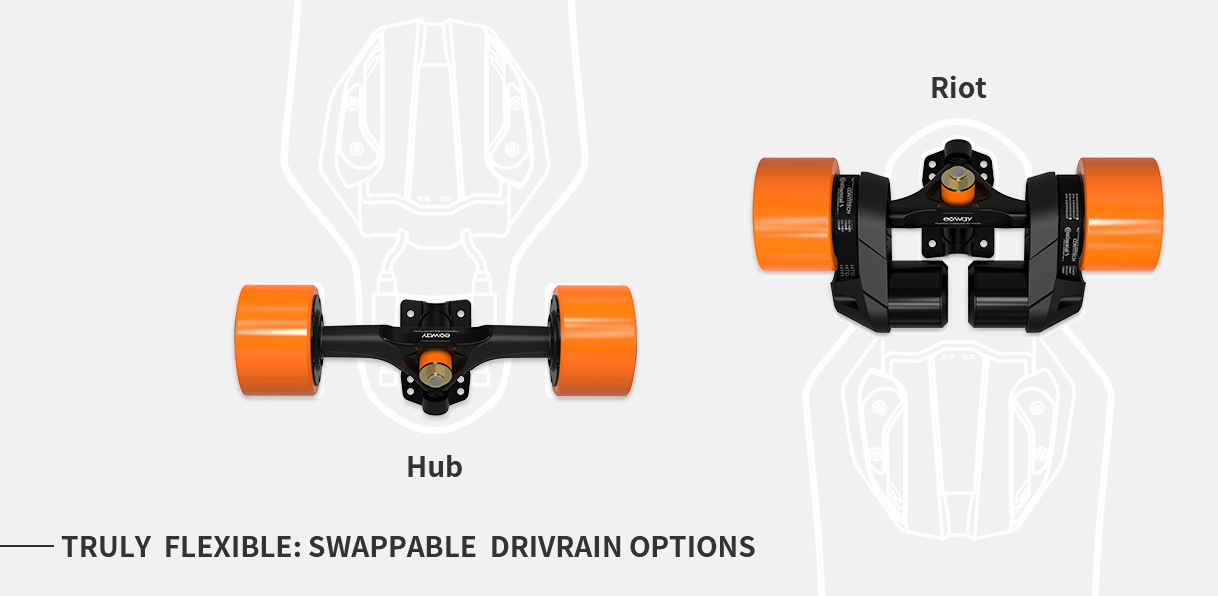 ADVANCED APP
• 3 preset modes for different skill levels along with easy further settings to customize acceleration and braking lets you easily dial in your ride.
• Turbo function. Enjoy hair-raising top-speeds of 25mph with turbo-mode activated.
• Select your wheel size in the app for more accurate speed and distance calculation.
• Custom standby time, the board will automatically shut down after a period of inactivity.
• The user-friendly app allows you to activate cruise control, change gears while moving, enable Free Mode and more.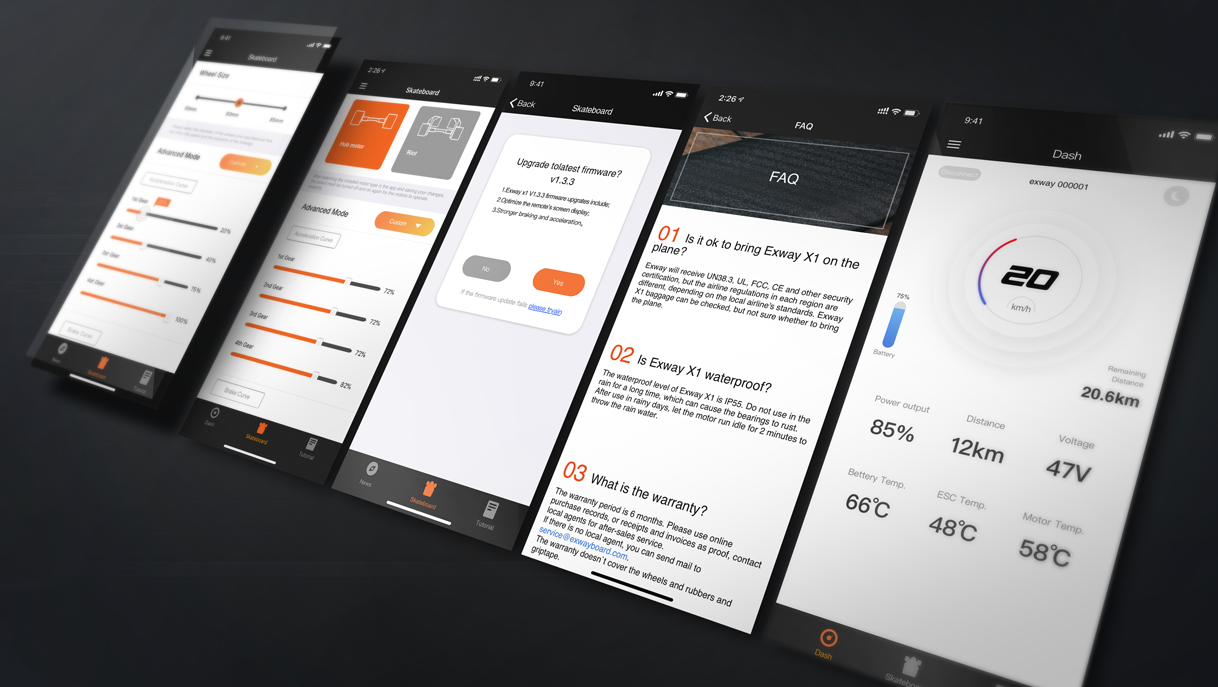 INDUSTRY LEADING REMOTE CONTROL
• Remote on/off capability, power on or off from your controller.
• Hibernation mode consumes less than 3% of your battery meaning your board is always ready when you are.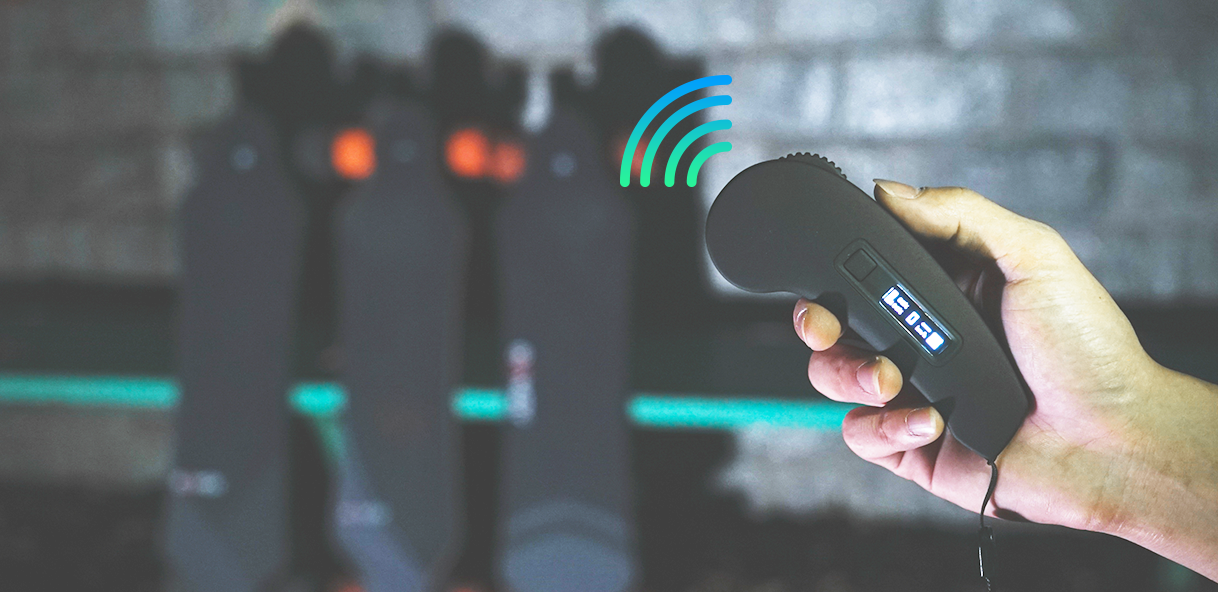 RELIABLE & MAINTENANCE-FREE
• Reliable and virtually maintenance-free At IP55 the Flex offers the same, most water-resistant board on the market.
• The modular design of the ESC, battery, and power system means each part can be easily swapped.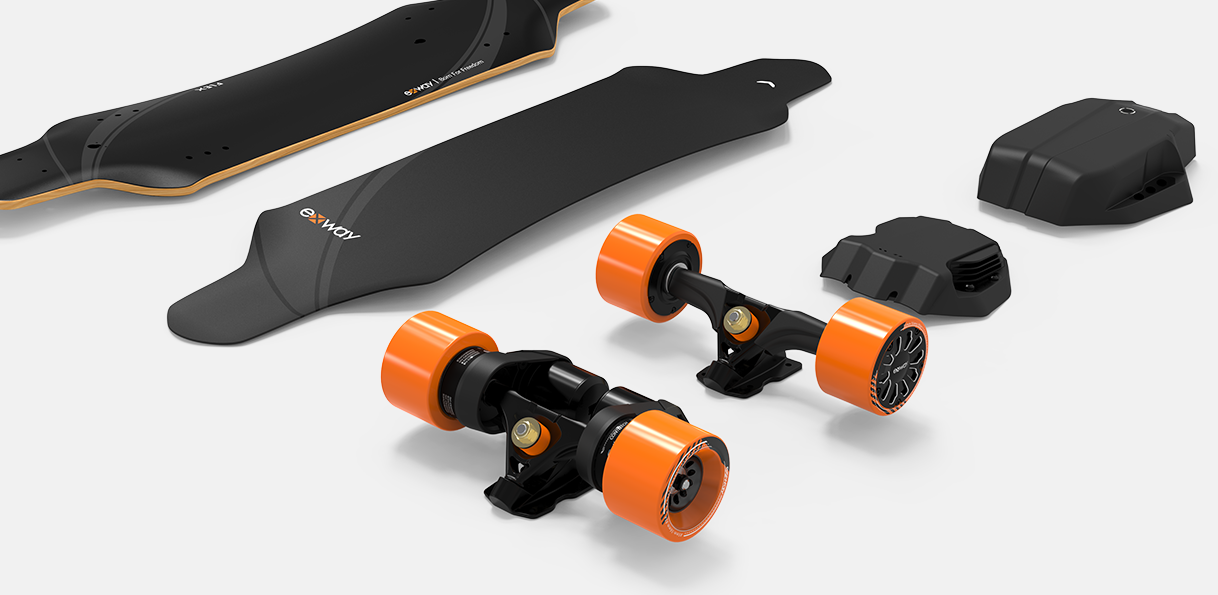 SMART BATTERY
• 24 safety sensors connected to the ESC leaves no unmonitored cells.
• UL certified multi-layer software and hardware protection circuit always engaged.
• SONY VCT6 high-capacity 18650 cells with a high discharge rate ensure strong performance and reliability.
• High-precision galvanometer monitors battery to within 1% for more accuracy and consistency.
• Long-term storage will automatically trigger the low-power mode.
• Replaceable design with an IP55 waterproof rating.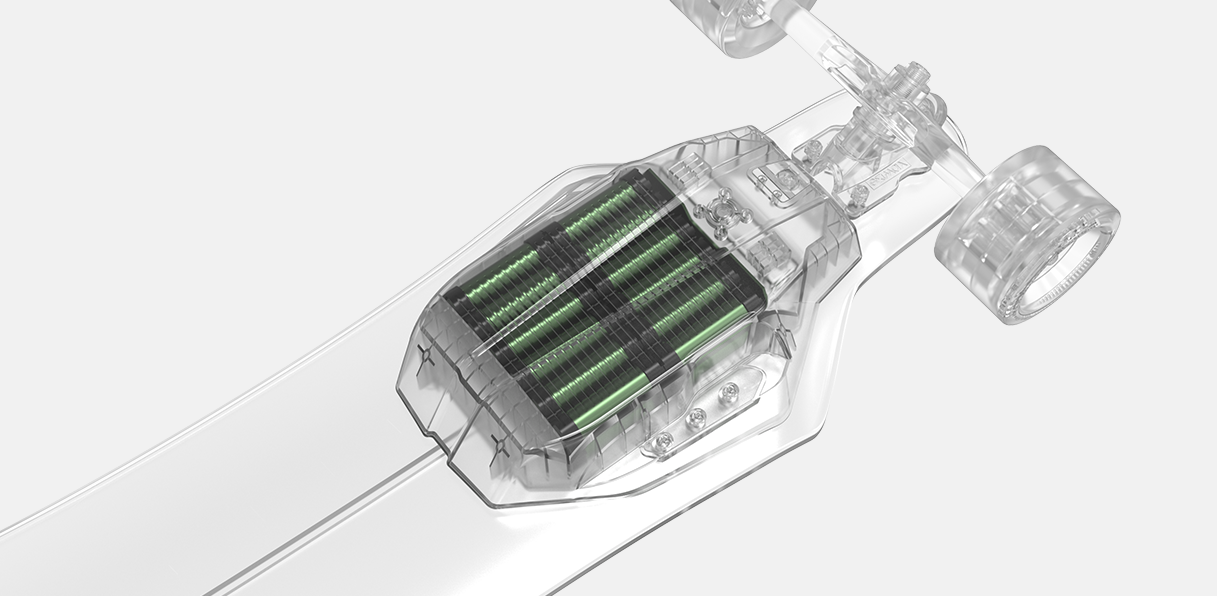 EXWAY TRIST TRUCK
• The all-new Trist truck utilizes a Proprietary Forging and CNC Milling Manufacturing Process developed by Exway Engineering Team for improved strength compared with traditional die-cast trucks.
• T6 heat treatment for high-strength hangers and reinforced baseplates.
• Industry-standard bushing sizes mean compatibility with most bushings on the market allowing you further flexibility to customize your carve.
• The bushings' top and bottom ends are equipped with bowl-shaped gaskets to further improve stability, especially during high-speed sliding.
• The hand-cast polyurethane Pivot Cup improves shock absorption, durability and noise reduction.
• The VIRGIN A352 Aluminum,SCM435 Alloy steel Kingpins and SCM440 alloy steel axles ensure superior strength.
• 8 inch Length / T6 Heat Treatment / 45° Baseplate Angles / 90A stock hardness.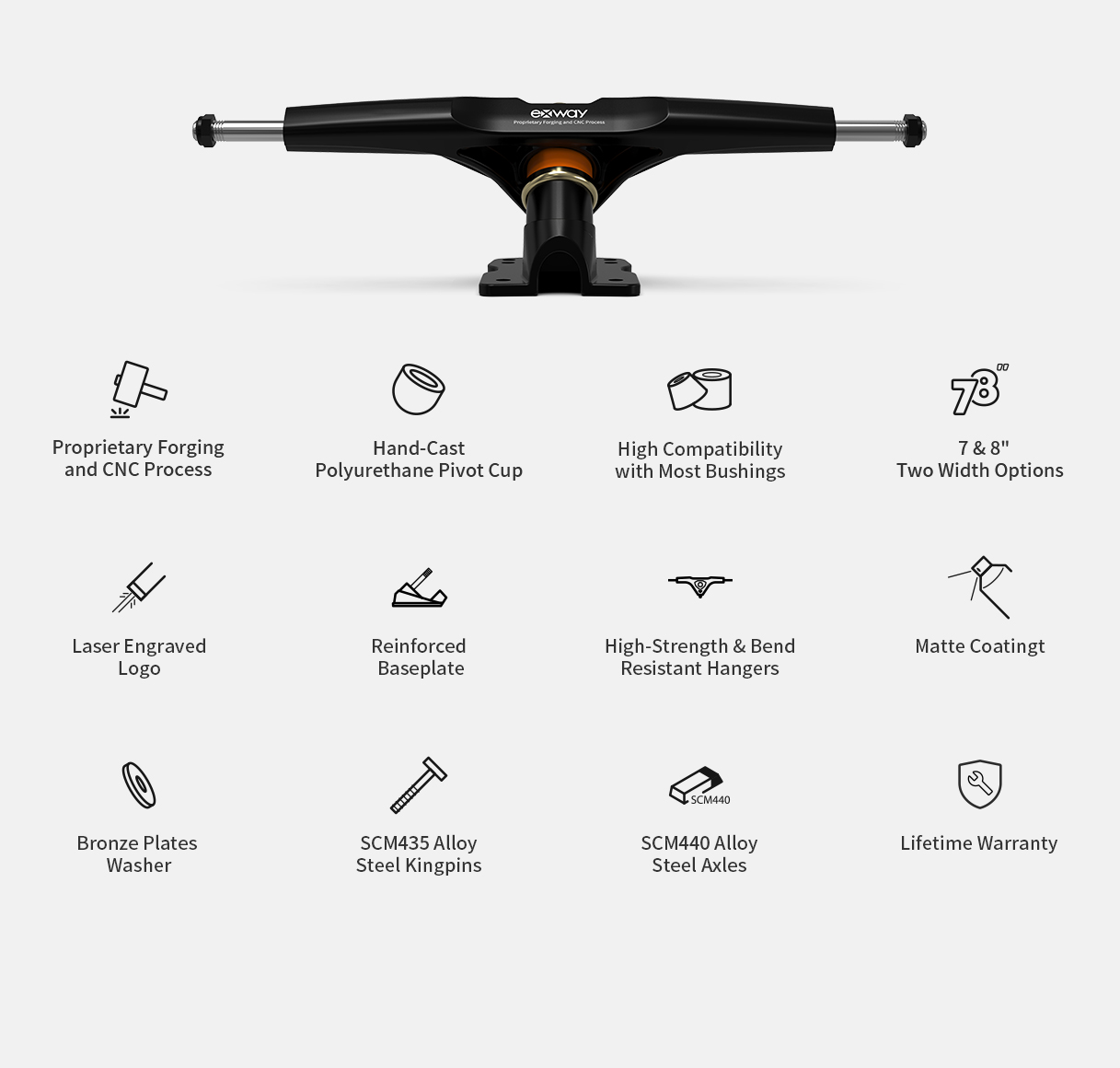 SPECS
| | |
| --- | --- |
| Max Speed: 42 Km/h | Max Climbing Grade: 30% |
| Range: 20 miles/ 32km | Weight: 17lbs / 7.7kg |
| Torque: Hub 4.6Nm ×2 / Riot 5.2Nm×2 | Max Power: Hub 1200W×2 / Riot 1500W×2 |
| Rated Power: Hub 600W×2 / Riot 750W×2  | Rated Charger Power: 75 Watts(Standard Charger) / 204 Watts(Quick Charger) |
| Input Voltage: 50V - 4A Max | Battery Capacity: 259 Wh |
| Grip Tape: 2mm Shock-Absorbing | Trucks: Exway Trist 45° 8inch |
| Waterproof Rating: IP55 | Braking Mode: Regenerative Braking |
| Charging time:4h 40min(Standard Charger)/1h 30minutes(Quick Charger) | Package Includes: Electric Skateboard*1, Standard charger*1,Manual*1, T tool*1, Remote controller*1, etc. |
| Garantie : 2 Jahre  |   |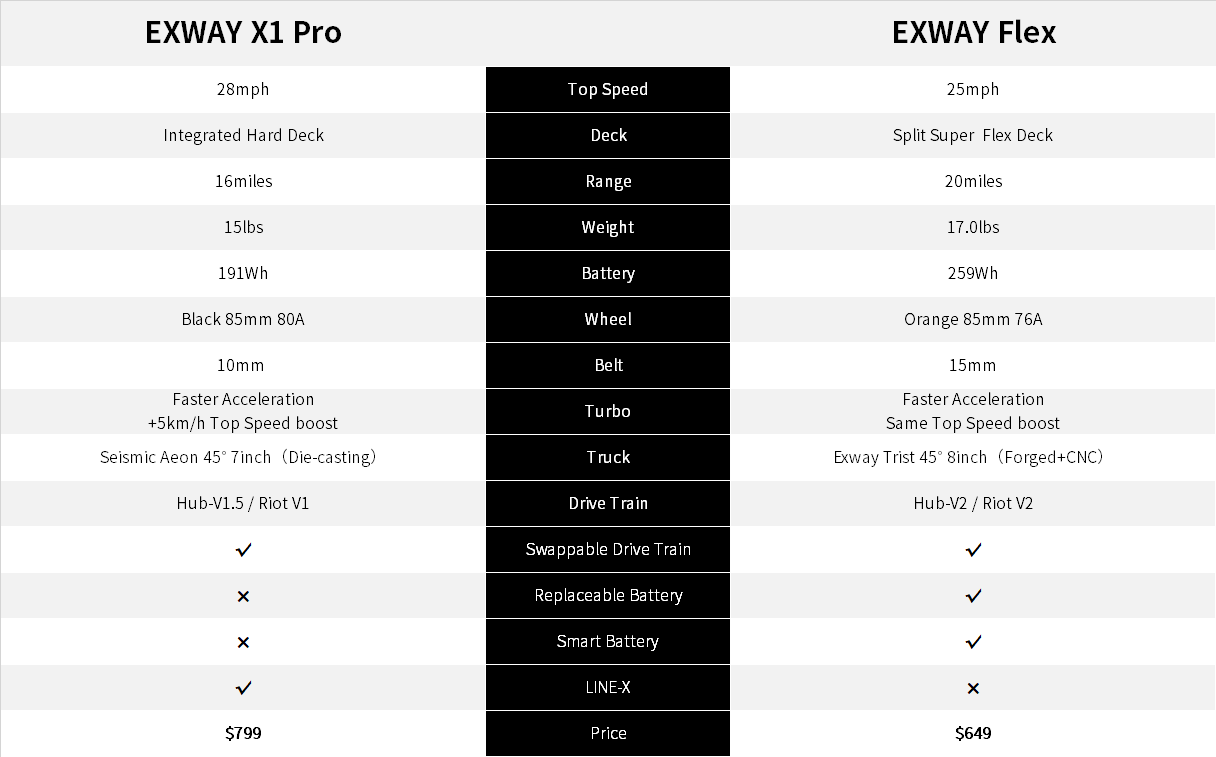 | | |
| --- | --- |
| Antrieb | HUB (Motor im Rad), RIOT(Belt) |
Die Garantie beträgt 2 Jahre. Je nach Produkt kannst Du eine Testfahrt durchführen. Gerne machen wir einen Termin mit Dir aus.